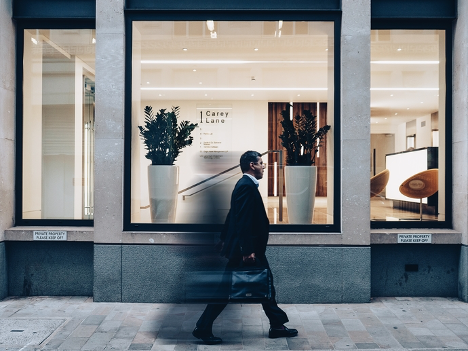 What Can Lawyers Learn from Retailers
In recent years, we have witnessed a steady parade of retailers shuttering stores and filing for protection from creditors. We've watched as once well-respected brands like Payless Shoes, Radio Shack, Sears, and Toys 'R' Us march solemnly towards an unglamorous end. Retail vacancy rates have been skyrocketing as real estate developers scramble to revitalize strip centers and repurpose large anchor spots in shopping centers.  Every day, another headline portends that 'Main Street' may be taking its last breath.
Why should lawyers care? Don't you have enough of your own problems to worry about?
Maybe. The current legal market is characterized by an overabundance of lawyers, uncomfortable bill audits, increased profit compression, and wavering loyalty of buyers of legal services. Will investments in technology breathe a new vitality into the profession? And what role will the marketing function play in this future? Oh, and one other thing, those shoppers who stopped buying stuff for their kids at Toys 'R' Us are also prospective clients of your firm. Their expectations of service and how it will be delivered is, whether you like it or not, shaped by their experiences online and in store. Good and bad.
The young couple who comes in to discuss estate planning makes most of their purchases on Amazon, they research and pay for their next vacation on TripAdvisor and they 'like' their favorite styles and stores on Facebook. They are probably savvier than you are on how to buy stuff online. They listen to books on Audible, they have their groceries delivered to their home by Publix and they use their smartphone to compare prices while shopping in retail stores. They check out everything online before they commit to an in-person experience.
So, they've scheduled an in-person meeting with you. Of course, they have already done their homework online and checked out your firm. Your website looks very professional, but before they visited it, they looked for reviews about you and your firm on Yelp. And, if your firm got less than 4 stars, or worse, there are no reviews of your firm, they're walking into your meeting with a healthy dose of skepticism. They've poked around LegalZoom and they may have already pulled a few templates for living wills off of RocketLawyer. They've also checked out your competitors and they have a very good idea what the going rate is for estate planning legal services. By the way, they have now been waiting in your beautifully appointed reception area for twenty minutes.
At this point, this young couple has already decided what they think about you. They have measured you, not just against your competitors, but also against every retail buying experience they have ever had. And you didn't win. So how can you do a better job? What lessons can lawyers learn from retailers? How can you take the lessons and better position your firm to win?
Communicating with Authenticity and Relevancy
The retailers that fell by the wayside failed to adapt to changing market dynamics and they lost relevance in the mind of their customers. For instance, Toys 'R' Us clearly got lost in transformation. Their brand story became irrelevant to customers, they ceded their strategic position as the "toy authority" and they chased bright shiny objects, like augmented reality, rather than giving their customers an authentic and relevant reason to buy. Successful lawyers and firms use brand stories to demonstrate how they represent certain values, offer quality and assure productive outcomes. The most authentic and relevant brand stories are the ones where the client is the hero (not the lawyer or the firm). You give the client a reason to care, a reason to listen, and most importantly a reason to engage you.
Translating Customer Insight into Action
To avoid disruption and thrive in the new digital economy, your law firm must get up close and personal with your clients. You need to see the world through their eyes and in some cases, know them better than they even know themselves. Fashion retailer Zara, for instance, has insight into exactly which items customers will pick up to try on together. By stitching together a data-driven view of their customers, Vineyard Vines delivers a highly personalized experience for their customers. Likewise, a robust case management system, gives lawyers a holistic view of client records, cases, communications, appointments and schedules, billing and bookkeeping, documents and computer files, and deadlines. Not only do these systems save lawyers time and money, they enable a more streamlined and personalized experience from the client's perspective. Such efficiency and streamlining helps firms offer clients a level of service that will remind them of what they experience in other aspects of their personal lives.
Meeting Your Customers on Their Terms
Like the big supermarkets who offer online, home delivery, and in-store experiences, all linked by a loyalty card, law firms can find ways to engage with their clients, at home on the sofa, at work, even in a competitors meeting room. For example, Squire Patton Boggs' Law Cloud App provides checklists, calculators, event booking and the essential "contact us" button for clients. By the time the client ends up in their law offices, they already have a positive relationship with them. After all, the firm has already been on their smartphone in their pocket or handbag for a couple of months!
Of course, retailers have also been learning that offering an online-only experience may also have its disadvantages. Consider Amazon's purchase of Whole Foods and their shift to acquire more brick and mortar locations to interact with customers. Amazon has recognized that retailers with a Main Street presence have a significant advantage over pure online retailers, as consumers can experience the products, get advice from knowledgeable staff and enjoy instant gratification. Given that buying legal services may often be accompanied by unwelcome stress or fear, a combination of online and human encounter is vital.
The human contact, the emotional link of a face-to-face encounter with a real live lawyer who is understanding, knowledgeable and reassuring is quite different from finding out online the bare facts of how-to setup a family trust or get divorced. The trick here is to take a hybrid approach as many successful retailers do today. Help the client with both: online and face to face. Here is the service, you can buy it here online, or, if you prefer, come and meet one of our experts in our offices.
Let's face it, Main Street has always been a place where people meet, shop, walk, do "stuff". Most people go to Main Street to buy but also to do something else that is very important: interact with other human beings. The face-to-face experience, the service, the stories that are heard and told….  that's where the value is created in a service business.